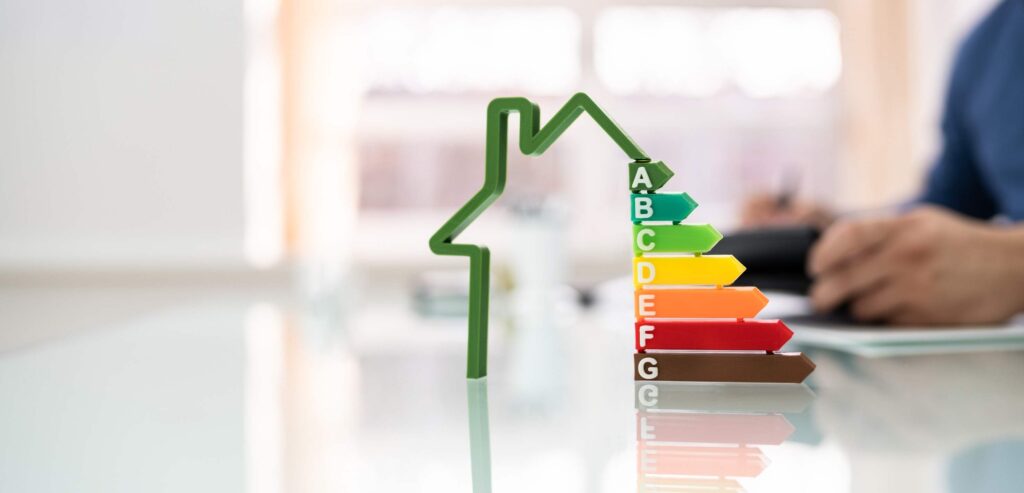 Estimated read time: 4 minutes             
What is EPC?
The UK government introduced Energy Performance Certificates (EPC) in 2007. They are required by law when a property is built or listed for rent or sale. 
This is a survey carried out to evaluate a property's energy performance. During which, a score is issued from A (most efficient) to G (least efficient), and is valid for 10 years. 
Evaluations of a property must be undertaken by an accredited Domestic Energy Assessor (DEA). They will determine the energy efficiency, typical running costs, and potential areas for improvement.
This decision is based on the assessment of construction type, roof type, insulation, heating, lighting, and glazing.
Overall, properties must have a valid EPC that meets the latest regulations - the Minimum Energy Efficiency Standards.
You can check the latest EPC rating for your property here.
How does EPC work?
Currently, all rental properties must have a valid EPC score meeting the minimum required rating of E.
* It is your legal obligation as a landlord to ensure that your property meets the minimum energy rating requirements. Following that, a copy of the property's EPC score must be provided to your tenants. *
New standards requiring all rental properties to have an EPC rating of C or higher will be in place from 2025. Starting with new tenancies, and then applying to all existing tenancies by 2028.
These changes are intended to make homes more energy efficient and reduce carbon emissions. Corresponding to the Government's target of reaching net-zero by 2050.
It is estimated that the price of improving one property from a rating of D to C costs around £10,000. Although, landlords are currently not expected to invest more than £3,500. An affordability exemption is available where changes are either not feasible or when costs would exceed £20,000.
Properties that will be exempt from EPC requirements include the following; 
Listed or protected buildings that would be compromised by improvements

Temporary buildings that will be used for a maximum of two years

Some workshops and industrial sites

Detached buildings with floor space of 50 metres or less

Buildings that are due to be demolished.
The penalty fine for not having EPC ratings is currently £5,000 per property. However, this is set to rise to £30,000 in 2025.
NOTE: Home improvements in order to boost an EPC score are not classed as repairs and maintenance. Instead they are capital expenditure, and therefore cannot be claimed against profits to reduce your tax bill.
Why does EPC matter?
A recent investigation by the BBC found that six out of ten UK renters presently live in energy-inefficient homes that fail to meet the proposed new standard.
Meanwhile, of 1.9million inspections of rental properties in the last five years, more than one million fell below an EPC grade C rating.
With the simultaneous energy crisis in the UK, homes are already more expensive to heat. Therefore, those living in low EPC grade properties will suffer as a result.
On average, tenants could save up to a third on heating costs if all recommended improvements were made to the property.
What to do now?
Be prepared:
Stay up to date with the Minimum Energy Efficiency Standards.

Review your existing properties and their ratings.

Start planning for the future.
How can we help?
At VeriSmart we have nationally qualified Domestic Energy Assessors in place to help you with your energy performance certificates. 
We can advise you on any measures that will need to be taken, for instance, should your property fail to make the required grade.
Click here for more information and to find your nearest VeriSmart team member.